How to make a Winning Resume?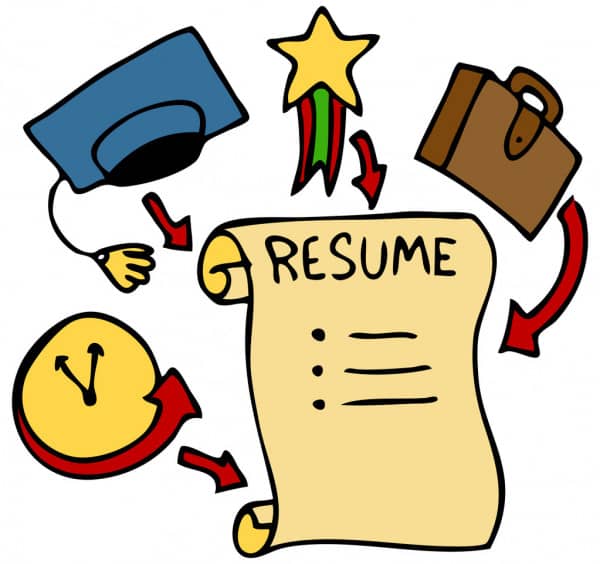 Resume is  a piece of paper which shows a candidate's skill set. The better the presentation of facts in resume, better for a candidate in Personal Interview. A resume must contain the following information
Header- Your name, contact number and e mail address. ( Aligned towards left)
Overview refers to the summary of your resume. It consists of 5-6 lines. It must include the following pointers:
Work Experience ( Current Work experience)
Major Achievement in work ( May include internships and past work experience)
Education (in short). It includes the highest level of Education, which  you have undertaken.
Any special course undertaken- If you have undertaken any special course, like that of Digital Marketing or if you have learned the technicals or fundamentals of stock market, do mention it.
National level Achievement ( If any)
Work Experience Details (if any):
Work Experience  details  provide information about our skills and abilities
It must include- Name of organization, duration,  Designation and Job Profile( In 3-4 points). The presentation of these facts must be in the given format:
Name of Organisation:                                                                                                     Duration:
Designation:
Job Profile:  (To be explained in 3-4 points)
Job Profile includes all the relevant points which you did while you were in job.  It consists of major achievements during your job and the nature of work which you did.
| | | | | |
| --- | --- | --- | --- | --- |
| Qualification | Year of Completion | Board/University | Name of  Institution | % of marks obtained |
| Graduation | | | | |
| HSC | | | | |
| SSC | | | | |
 ( Follow reverse chronology)
Internships / Industrial Training certificates –
Organisation:  ……….                                                                                          Duration:……..
Designation:……….
              Job Profile:……………..
                           ………………………………..
                           …………………………………
Major achievements include national level participation in any sports or other event, or  any awards received ( academic or related to your interests)
Academic Projects are projects undertaken alongwith your professional degree. They may include research or thorough study on any topic, which is related to the degree specialization which you are obtaining.
Position of responsibility:
 Mention a position of responsibility which you have held or which you are currently  holding. It may include being your college/University President,  being the regional head of any NGO or Chairman of any club in your college or locality. Being a part of social service activity shows that you are concerned for beings other than self.
Professional Certifications:
 These are proofs that show that you have knowledge other than your degree specialization. These may include clearing CA or CFA level. If you have traded in  stock market  and you have knowledge regarding fundamentals or technical aspects of stock market, do mention it.
 These refer to activities beyond curriculum, which may directly help in your job or during MBA. These may include participation in debate competitions, hackathons, debate, writing blogs, stories etc. You can also say that you have been active in stock market trading, or digital marketing.
 These are interests, which may not directly benefit you in your job or MBA, but prove  that you aren't  a bookworm. These may include following or playing a sport , reading books or novels, cooking different delicacies, etc.
A sample resume is being provided to you-
Name
E-mail address
Contact Number
Overview:
Self Employed at S. K. Dresses ( Managing online sales)
Interned at Marketing personnel in Industrial Engineering Expo (Organised by Future Communication)
Worked as a Content Writer at ABC ltd.
Completed B.Com (Hons) from IIPS-DAVV in 2019
Participated in National youth Parliament in 2016. A debate enthusiast, since the age of 12.
Work Experience:
Organisation: Shankar Dresses, Indore                          Duration: From February 2019
Designation: Manager of online operations
Job Profile: Managing the online sales of the Organisation
                      Inventory Management
                      Clocked additional sales of 30% through online operations during Festive Season
Scholastics:
| | | | | |
| --- | --- | --- | --- | --- |
| Qualification | Year of Completion | Board/ University | Name of Institution | Percentage of marks obtained |
| Graduation | 2019 | Devi Ahilya Vishwavidyalaya | International  Institute of Professional Studies | 85% |
| HSC | 2016 | CBSE | St. Paul's H.S. School, Indore | 88.4% |
| SSC | 2014 | CBSE | St. Paul's H.S. School, Indore | 85.5% |
Internships:
Organization: Future Communications, Indore                              Duration: December 2016-January 2017
Designation: Marketing intern
Job Profile:       A member of PR Department of  Industrial Engineering Expo
                                  Handling clients and allotment of stalls in the event
Major Achievements:
Participated in National Youth Parliament, organized by Ministry of Corporate Affairs.
Beyond Curriculum:
I have been a Debate enthusiast. I have participated in many events, representing my college and school.
An educational blogger
Key Interests:
Reading Fictional novels.
Cooking Indian Dishes
Performing drama and nukkad natak
We are here for you to help you Crack Exams in the first Attempt . Simply you need to click the store page of our website to get complete details of the best online courses.
Visit our YouTube Channel to get access to free videos which will help you to prepare better to Crack CAT in the first attempt!