MICA Ahmedabad Interview Experience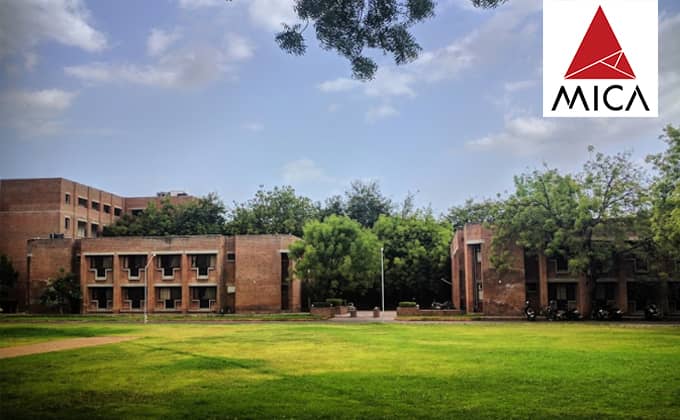 Venue – MICA Ahmedabad
Date – 2nd March 2020; Forenoon slot (8 am)
I entered the campus at 7 am and experienced breathtakingly beautiful greenery all over the campus. Not to forget the peacocks, which were relaxing in the MICA garden.
At 8am, we got our documents verified. We were divided into panels.
After the document verification, we were accompanied to a room in which the Group Exercise was to be undertaken.
The Group Exercise Topic was Alexa, Cortana, Siri, Bolo and their enemies are chilling at the weekend. Suggest how are they going to pass their time?
There was an instant smile on my face after reading the GE topic. [only MICA can give could give such  a GE topic]
We prepared a five minute skit. We assigned each other characters of Alexa, Siri, Cortana and Bolo. We gossiped about each other and our masters. My group did an okay job. Others were satisfied but I thought that we could have done a better job.
I was the last in my panel and hence I waited for more than 3 hours for my interview. During that time I got to know that MICA is an institute, which pays very much importance of creativity. I also got to know alumnus of the institute, who were at top positions in the industry.
After that, I was accompanied by a professor to the waiting corridor. Another thing I noticed about MICA was that interviewers were researching the candidates quite deeply. This is because there was almost a 20 minutes gap between the exit of the girl, who was before me in the panel and my entrance. Believe me, those 20 minutes were thoroughly testing my patience. After that I was called into the room.
There were three panelists. One professor, in his late forties (P1), another in his early 40s (P2)  and a lady in her early 30s (L).
The lady gave me a heartwarming smile. I returned the same to all the panelists. P1 was busy reviewing my form. 
(There was a form provided to us, in which all the candidates were asked to fill in their academic details, Extracurricular achievements, Statement of Purpose for MBA and 3 likes and dislikes each
Likes – Food, MS Dhoni, meeting new people
Dislikes – Social media addicts, Caste based Reservation system of India, Bigg Boss – the reality show ) 
P1 – (said jokingly) Bolo….Indore se ho naa…tum to chappan, sarafa hi bologi. Wohi hai na Indore me famous….Chappan, Sarafa, Poha, jalebi.
Everyone laughing.        
P2 (asking P1) – Haan….Chappan bohot famous hai waha par.
P1 – haan…Chappan sarafa dono…. And also poha jalebi
Me – Yes sir, Indore is known for poha jalebi. Another food item that does not really belong to Indore. But, Indore has adapted and improvised it very well is dal bafla. So, the next time you visit Indore, you must definitely try Dal bafla.
P1 – Okay….batao khanne me qa accha lagta hai?
Me – In breakfast – Poha, in lunch – dal, chawal, sabzi roti. Its like, people have problems with karele ki sabzi, lauki ki labzi, but I never have such problems. I believe in balanced diet and I think skipping anything is really bad.
All the three smiling and nodding.
Lady – You have written Bigg Boss as your dislike. Why?
Me – I think ma'am big boss does not have any content to show. There is no vision behind the show.  Like, when we look at dance shows, singing shows or cooking shows, there is a vision that they want to find a talent. But, in Bigg Boss there is nothing like that. The contestants get involved in a lot of verbal violence and so I do not like it.
P3 – But gives us a very good case for marketing.
Lady agreeing with P3.
I was confused… What are they saying?
Me – Ma'am, I am not understanding what you are saying.
P3 – Okay…Tell us one thing. What are the qualities that you think are necessary to be a manager?
Me – (after thinking) According to me, if you want to be a manager, you need to be a good decision maker (considering every pros and cons), you need to be dynamic and adaptive, you need to have thorough market knowledge….  The lady continued…..management of resource, management of people….management of time. … I agreed
That is what Bigg Boss is based upon.  I was literally thinking…what they are saying is not entirely wrong.
Me – Okay…now I got your point. But, there is a lot of negativity in that show.
P2 – Why do you like MS Dhoni?
Me – Sir, I look up to MS Dhoni. I think as a leader, he is just perfect. His unwavering self belief, his management capabilities, his leadership. These things are just so perfect when it comes to Dhoni.
Lady – Okay, then tell me any two shortcomings of Dhoni.
Me – Ma'am I think that sometimes he plays slow. Every time that strategy does not pay off. Sometimes, you need to play fast.
That lady cut me and said that this is because we are not on field.
Me – Ma'am but still… that strategy does not always pay off.
P2 – You have written one of your dislikes as caste based reservation system of India. Why?
Me – Due to this system, meritocracy gets sacrificed, skills get sacrificed. The deserving are not given any chance. So, its unfair. These SC, ST, OBC people, who claim themselves to be backwards own bungalows and get advantages in government jobs and government colleges and the deserving are left behind.
P2 – So, if not caste based reservation system…then what?
Me – The EWS quota introduced by the government last year is a nice move. Apart from economic reservation, we can also have a region based reservation system. For example in Madhya Pradesh, there is an area called jhabua, which is really backward. So, there must be a region based quota.
P2  satisfied
P2 – (looking at my form) You have done a good job at National Youth Parliament.
Me – Yes sir…it was a really nice event. I got to learn a lot of things there.
After this…they seemed like now they are done with questions.
Lady – What all are the answers that you prepared?
Me – Tell me something about yourself.
All four of us smiling.
Why MBA? (all of us again smiling)
Something which is not in my SOP.
Why MICA?
Lady – Did anyone ask Why MICA in any other panel?
Me – Yes, I heard this from one of the candidates.
Lady – Then, we have to take a break and discuss other questions.
P2 – If you prepared why MICA. Then you must be also knowing why not MICA. If you have filled the form of MICA, you must have also thought about why not MICA. Tell us why not MICA?
So, tell us why not MICA.
Ma'am, I think I am interested in MICA and I am sitting in this room because there was was no reason for why not MICA.  And since I did not find any significant reason for why not MICA that is why this college attracted me.
Lady – OK. You have written in your likes that you like meeting new people. You just met three of us. What can you tell about three of us?
Me – Ma'am as soon as I entered the room and I saw all three of you smiling. So, I got a positive vibe. Apart from this, you people did try to change my mindset as far as big boss is concerned. So, you brought a completely different perspective to fore. And, mainly this is the reason I really like meeting new people because many times they change your perspective. And, maybe I will catch up with some of the big boss episodes and try to watch it with a different perspective.
Lady – Wow! We have changed atleast one person's point of view. Salman Khan will be thanking us for this.
P2 – Anyway, thank you.
Me – Thank you sir.
Do you want to be the next one to be posting such an experience? Obviously you will need to score great in MICAT Exam to get a call for MICA Ahmedabad interview round!
We are here for you to help you Crack MICAT in the first Attempt and get a MICA Ahmedabad interview call and providing you an excellent online course for your online MICAT Preparation.
Visit our YouTube Channel to get access to free videos which will help you to prepare better to Crack MICAT in the first attempt and get a call for MICA Ahmedabad interview round.