IPMAT Previous Year Papers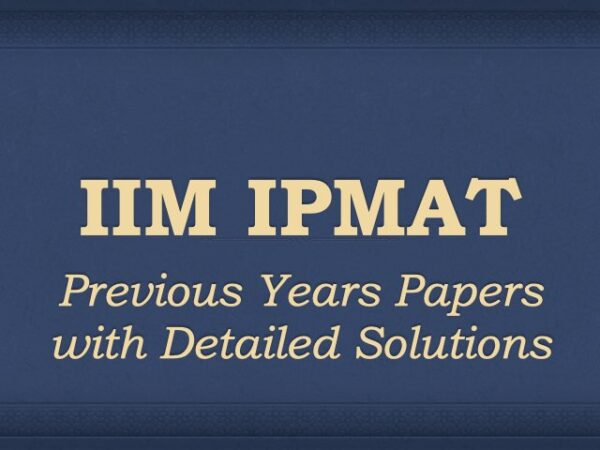 IPMAT Previous Year Papers
IIM IPMAT Previous Year Papers with Detailed Solutions. Exams Covered – IIM Indore Papers (IIM Indore IPMAT 2019 – IIM Indore IPMAT 2022)

Self Assessment Tests – 10 (5 Quantitative Aptitude, 5 Verbal Ability and Reading Comprehension)
Description
Course Name: IIM IPMAT Previous Year Papers with Detailed Solutions
We are delighted to share this book with you which will prove to be extremely useful to give a boost to your IPMAT Preparations. This book is divided across two sections:
Part A: IPMAT Previous Year Papers with Detailed Solutions
The Part A of this book contains the Past Years Question Papers of IPMAT (2019 – 2022) with detailed solutions. Solving past years papers is always recommended if you are serious about cracking the exam and we are sure that this section will add immense value to your IPMAT Preparation
Part B: Self-Assessment Tests
We are delighted to share with you, the SAT Module i.e. the Self-Assessment Tests Module. The main objective of attempting this module should be to gauge your preparation level across all the sections. You should take these tests in a strict time-bounded manner so as to gain enough practice on attempting the tests. Each test comprises of 30 Questions. The ideal time limit to attempt each test is 60 minutes.
Looking for IPMAT Online Classes? Visit IPMAT Online Course
Or else if you are looking for Classroom Coaching for IPMAT Exam? Visit IPMAT Coaching
Only logged in customers who have purchased this product may leave a review.
Q & A
There are no questions yet